Rob Relyea has a customer (I wonder if it's Kevin's Mom?) who is looking for an implementation of this Views menu that is used in Vista's Explorer window.
Since I haven't seen anyone respond, I put together a little app to demonstrate how you might do this in WPF. (Yes, I'll use any excuse to knock off another letter of the alphabet in this series!)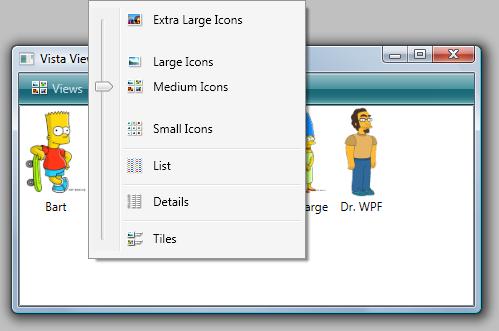 This really does qualify for the ItemsControl series. Not only is a ContextMenu an ItemsControl, but I also demonstrate how to use the menu to control another ItemsControl… a ListView. In total, this sample demonstrates binding to a collection ('C' is for Collection), creating a dynamic item template ('D' is for DataTemplate), and using triggers to adjust properties on a custom items panel ('P' is for Panel).
One would typically implement a user control for a menu like this because the control is really a collection of several other controls (in this case, a slider, several menu items, and a popup) with well-defined, static visuals. However, because I wanted several behaviors that come for free with a context menu, I just took a shortcut and derived directly from ContextMenu. I used the control's template to define the visuals. Make no mistake… this is not a "custom control" in the WPF lookless sense of the term. The implementation is very much tied to the visual elements in the template.
Disclaimer: This is just an example of how such a menu could be constructed. I readily admit that I didn't spend much time on it and there are lots of improvements that could be made. Also, there are some interesting behaviors within the Views menu in Vista. For example, the menu is always opened such that the slider's thumb is directly under the mouse. I implemented this feature and some of the others that I noticed, but I didn't spend a lot of time trying to precisely imitate all the behaviors. There's certainly still some cleaning up to be done if you require pixel perfection in sizing, iconography, etc.